Posted by CotoBlogzz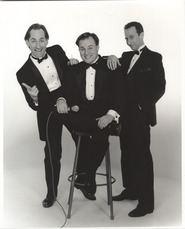 Leavenworth, WA
– if you missed the Rat Pack while at Leavenworth, all Is not lost. You get a second chance to catch the Pack: Nightclub Gentlemen, the hilarious musical revue about three "Rat Packers" and their quest for Vegas stardom.
Dress in your Swingin' Sixties best as there'll be a costume contest as well.
A little Bobby Darin ... a little Louis Prima ... and a whole lotta singin' and finger-snappin'! Songs include "Fever," "One for My Baby," "Blue Skies," "Birth of the Blues," "Me and My Shadow," and more -- performed by three of Seattle's favorite song-and-dance men, the extraordinary David Silverman, Richard Gray, and David Koch. Each one creates an unforgettable character ... and together they create onstage ribaldry reminiscent of, well, another famous nightclub trio of the 60's! RING-A-DING-DING! Joining these three local stars are Don Dieterich and John Engerman with their own swingin' song stylings. This exclusive single performance is your ONLY chance to see these Seattle legends in a rarely-performed show!

This performance is scheduled for June 11, at 6:30 at the Act Theatre in Seattle, WA. The best part is that all proceeds benefit the Icicle Creek Theatre Festival at Icicle Creek Center for the Arts.
Tickets are $30, and that includes hors d'oeuvres. Drinks, a silent auction -- and the hors d'oeuvres -- begin at 6:30pm; show at 7:30.